Highland Hill Farm Po. Box 517 Fountainville, PA 18923 215-345-0946
Home

Unusual Links From Around the Web



377Yd Deer Kill By 85 Yr Old Man
You can go Hunting Indian Relics at Our Farms
You can go Hunting Dino Bones in The Judith River Basin
Black and Yellow Gold Hunts Available at Our Horse Mountain Ranch
Each year ten of thousands of meteorites hit the earth. They are worth big dollars to the finders. In fact they are worth more than gold. You might say they are black gold. This is your chance to find one. You also will be able to say that you have entered the Twilight Zone.
Did you ever go on a strange vacation? Well this one is out of this world. When you come to Truth or Consequences to see the new space station that will launch tourists into space, do a little walking to find space junk...meteorites on our ranch. Hunting for meteorites does not have to be a bone chilling adventure to the Antarctic where the temperature is 50 below zero F and 50 mile per hour winds. Meteors enter the earth atmosphere everywhere. They impact everywhere. The trick in finding them is to look where they have had a good chance of impacting or where they have been concentrated by natural forces of the earth and have not been destroyed by weathering.
This means deserts are a good place to search for meteorites. Deserts can change over the centuries. But deserts don't alway have major weathering. Thus if you want to find meteorites you may want to come to our Truth or Consequences Ranch. It is located in New Mexico adjacent to the Chihuahuan Desert. There are trillions and trillions of terrestrial rocks for each meteorite that could be in this area. Metal detectors are used by many professional meteorite hunters around the world. Metal detectors can easily distinguish between ferrous and non ferrous rocks. Since not all meteorites are ferrous only the ferrous meteorites will be found by the metal detector. Modern metal detectors can balance out dominant background rocks. This enhances the detector to find the meteorites. Metal detectors create a constant hum. The volume and pitch of this hum increases as the detector passes over the metallic object. There are hot rocks which produces a signal but is a false positive. Thus detecting requires concentration and you will see lots and lots of hot rocks.
You must also keep a visual eye for other interesting rocks which can be meteorites. It seems that the best way to find meteorites from this area is to use a combination of metal detecting and good old-fashioned shoe-leather foot searching. The weather is not hard to predict for the Truth or Consequences area. Don't bother to bring a rain coat, it only rains 10" per year. The winters are mild as it is Southern New Mexico . It could get to 10F, but not for many days of the year. A clear sky with a gentle breeze is the norm.

300 Mag Long Range Kill Shot at the Wilson Ranch ....Malta Mt 377 yds Shot

Buffalo Bone Hunting at the Wilson Ranch ....Malta Mt






Below are pictures of many of the farms and ranches of the Highland Hill Farm Properties owned by the Hirst Family. These are not all of the farms that are available that are owned by the Hirst Family. More farms and properties will be added to this list. For many properties there are few pictures available. More will be posted. Check back to see them later.
We are starting a Hunting Club for our farm properties. We will be limiting the number of members. This club will be managed by Mike hirst of Eccologix. Shade Tree Farm which specializes in deer and game management. You can Email Mike for more details.
Wilson Ranch ....Malta Mt The Wilson Ranch in north central Montana was established in the late 1800's. This Ranch is a 20,000+ acre Black Angus cattle operation and is situated on a variety of terrain ranging from river break meadows, to open brush county, to willow filled creek bottoms all flush with prime Deer, Antelope, and Upland Game habitat. On this ranch there is Mule Deer, Whitetail Deer, Antelope, Pheasants and other birds.

See more on the Wilson Ranch In Malta Mt
Haser Ranch... Malta Mt

Williamson Ranch - Malta Mt

Whitewater Mt CRP Croplands Sorry no pictures.... This is crp land with grass. If you are looking for hunting heaven then you must give this property a look. Located just a short drive north of Malta, Mt. this parcel contains approximately 1800 acres of CRP. Great topography, plenty of grass, and just enough cropland nearby to make this property into some of the most outstanding mule deer and upland bird habitat that you will ever find. This proprerty is 45 minutes east of our other Malta Ranches listed above. Milk River Ranch ... Havre Mt Eight out of every 10 wild, free-ranging elk spend all or part of the year on National Forests and grasslands. Our Milk River ranch affords you elk hunting opportunities.
As elk were forced from their historic range, millions of acres of suitable habitat were left vacant. Although populations of elk in many western states are at high and generally stable levels, demand for elk hunting has doubled in the last 20 years and continues to grow. Through transplants and habitat improvement, a major opportunity exists to increase the current occupied range by up to 20 percent. Eccologics will help us to manage this resource for our club members.
Elk feed predominantly on grasses, but also use forbs, browse, and bark. Prescribed fire is one way to stimulate forage production on summer and winter range. Other habitat improvement methods include development of watering sites and seeding logged areas. Annually these and other projects to expand and improve elk habitat will be a goal on this ranch.


See More on the Milk River Ranch
Flying X Ranch ... Truth of Consequences NM ACREAGE:

3,600 +/- Deeded Acres

4,480 +/- State Lease Acres

35,340 +/- U.S. Forest Service Lease Acres

28,260 +/- Bureau of Land Management Lease Acres

1,200 +/- Bureau of Water and Power Resources Lease Acres

72,880 +/-

Total Acreage

114 +/- Sections

We also own the neghboring ranch known as The Elephant Butte Lake Ranch which adds another 20,000 or so acres of lease and deeded land.
See More on the Flying X Ranch

Horse Mountain Ranch in Magdalena NM

SIZE:

6,847.69

Acres of Deeded Land

799.01

Acres of State Lease


33,900.00*

Acres +/- USFS Lease 41,546.70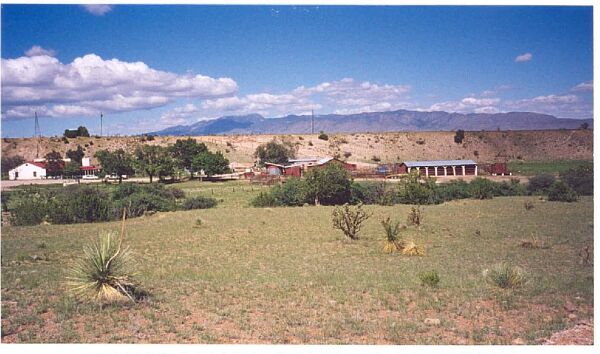 Mule and whitetail deer, elk, black bear, mountain lion, turkey and pronghorn antelope are all common game species on the Horse Mountain Ranch. An array of birds including small European falcons (kestrels) and golden eagles and small mammals can also be found throughout most of the ranch. Sensitive, threatened, and endangered Mexican spotted owls and peregrine falcons may also be present. The lack of permanent fresh water on the ranch detracts from any need to bring along a fishing pole!!!
More on the Horse Mountain Ranch Magdalena NM ******************************************************************************* IT IS VERY IMPORTANT TO SIGN UP FOR OUR E-NEWSLETTER. YOU WILL RECEIVE UPDATES ABOUT OUR HUNTING CLUB..... SIGN-UP NOW ....

*******************************************************************************
Click here for Our Eastern States Properties
***************************************************************************
Some properties have accommodations... Ranging from rough to real rough. This club is being formed with the idea that members will provide there own lodging. Each Farm and Ranch is set up differently. Our Flying X Ranch which has 92,000 deeded and government leased acres has a 2 rough cabins. Members can will be allowed to work out an arrangement to use these cabins so long as it does not interfere with the ranches operations. The leased acres are open to the general public we just have Grazing leases. But our private acreage has many of the accesses necessary for the public areas.
In Pa we have about 1500 acres.
In NY we have about 560 acres.
In Va we have about 185 acres.
In Montana at our Wilson Ranch there is Glenna and she can feed and house hunters for a fee or you can stay in town... 25 miles away. This ranch is about 28,000 acres more or less. Deeded and leasehold.
Near Glena's Wilson Ranch to the east, we own the Haser Ranch.. It is about 8,000 deeded and leased acres.
Adjacent to Glenna on the east is part of the Dan Simmonson Ranch which we have bought several sections of.
South of Glenna's we own the Willamson Ranch which is 1800 acres.
Near Whitewater we own about 1800 acres.
Near Havre on the Milk River we have 4000 acres and a 25 acre stocked trout pond.
Please support our tree farm buy the trees we grow...we will buy more land for hunting!!! Visit Our Tree Farm Web Site!!!



Our Farm Video Links on Youtube.com

Video...About Our Nursery in Fountainville Pa
How We Do Things!!!
Video...How We Install Irrigation On Our Trees
Video...Our 3-4 Ft Dragon Lady Hollies
Video...Our Leyland Cypress and our Farm
Video...Our Evergreens We supply in Bulk
Video...Harry Lauder Walking Sticks
Video...Leyland Cypress Trees 5-6 Ft Tall
Video...Some of our Ornamental Shrubs
Video...Planting Green Giant Liners
Video...Elegantissma Arborvitae
Video...Leyland Cypress Selection 3ft 4ft 5ft Trees
Video...River Birches 6FT Dug Trees Balled and Burlapped
Shade Trees and Shrubs
Video Our Small Potted Willows
Video about Our 4-5Ft Nellie Stevens Hollies
Video ...Hemlock Trees
Video ...Arborvitae Under Snow Load
Video...Arborvitae Blocking A Major Road
Video...Arborvitae 1gal vs 3gal Green Giants
Video...Our Boxwood Selections
Video...Sycamores, Zelkovas and Dawn Redwoods
Video... Why The Green Giant is the Best Tree in the World
Video... Green Giants 10-12 ft Tall
Video...Our Large Green Mountain Boxwood
Constellation Dowoods Blooming in Mid May
Our Flowering Plum Trees...Thundercloud Plums...
Video... Why The Green Giant is the Best Tree in the World
Video...Winterberry Holly In Winter
Video....Leylands and Japanese Maples
Video..Crimson Queen Japanese Maples
Special Sale on Green Giants and Leyland Cypress trees
Video...Deer Resistant Plants
Video...Our Spiral Plants
Video...Weeping Copper Beech Trees .... a Deer Resistant Plant
Video..About Our Fruit Bearing Plants
Video..About Our Fruit Bearing Plants